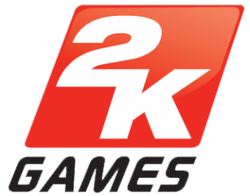 2K is an American global developer, marketer, distributor and publisher of video games. 2K Games is a subsidiary of Take-Two Interactive. It was created on January 25, 2005 after Take-Two acquired developer Visual Concepts and its wholly owned subsidiary Kush Games from Sega for US$24 million.
The name "2K Games" comes from Visual Concepts' sports game lineup typically referred to as the 2K series, which were originally published exclusively for the Dreamcast console. 2K Games is headquartered in Novato, California. The label publishes a wide variety of console and PC titles developed both internally and externally.
2K Games have been nominated for the BAFTA awards for their game Borderlands 2.
2K Sports in New York City, United States, founded in 2005
2K China in Shanghai, China, founded in 2006
2K Czech in Brno, Czech Republic, founded in 1997 as Illusion Softworks, acquired in 2007
2K Marin in Novato, California, founded in 2007
2K Australia in Canberra, Australia, founded in 1999 formerly Irrational Games Australia
Firaxis Games in Hunt Valley, Maryland, founded in 1996, acquired on November 7, 2005.
Irrational Games in Quincy, Massachusetts, founded in 1997, acquired in 2006, formerly 2K Boston/Australia (2007–2010)
Frog City Software in San Francisco, California, founded in 1995, acquired by Gathering of Developers in 2004, merged into Firaxis Games in 2006
Indie Built in Salt Lake City, Utah, founded as Access Software in 1983, acquired from Microsoft in 2004, closed on April 28, 2006
PopTop Software in St. Louis, Missouri, founded in 1993, merged into Firaxis Games in 2006
Venom Games in Newcastle upon Tyne, founded in 2003, acquired in September 2004, closed in July 2008
BioShock
Borderlands
Civilization
Duke Nukem
Mafia
XCOM
External Links
Edit
Ad blocker interference detected!
Wikia is a free-to-use site that makes money from advertising. We have a modified experience for viewers using ad blockers

Wikia is not accessible if you've made further modifications. Remove the custom ad blocker rule(s) and the page will load as expected.