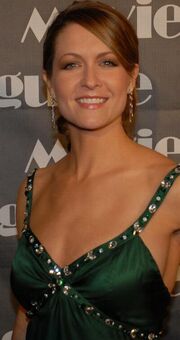 Alecia "Ali" Hillis is an American actress from the state of Illinois who learned to perform in theater as a child and auditioned for parts in the Broadway plays in New York City. She has appeared in a variety of TV shows and films with a voice character in a number of video games.
Filmography
Edit
Film & Television
Edit
Beverly Hills Chihuahua (2008)- Angela
CSI: Crime Scene Investigation (2011)- Olivia Fowler
Marvel Anime: X-Men (2011)- Emma Frost
Naruto Shippuden (2009)- Karin
Space Buddies (2009)- Astro Spalding
Aladdin- Genie
Romeo and Juliet- Juliet
The Sound of Music- Liesl
West Side Story- Maria
Video Games
Edit
Dead or Alive Paradise (2010)- Rio
Dissidia 012 Final Fantasy (2011)- Lightning
Final Fantasy XIII (2010)- Lightning
Final Fantasy XIII-2 (2012)- Lightning
Kid Icarus: Uprising (2012)- Palutena (with anime sequences)
Lightning Returns: Final Fantasy XIII (2014)- Lightning
Mass Effect (2007)- Dr. Liara T'Soni
Mass Effect 2 (2010)- Dr. Liara T.Soni
Mass Effect 3 (2012)- Dr. Liara T'Soni
Naruto series (2010)- Karin
Naruto Shippuden: Ultimate Ninja Storm 3 (2013)- Karin
Naruto Shippuden: Ultimate Ninja Storm Generations (2012)- Karin
Ninja Gaiden 3 (2012)- Mizuki McCloud
Resident Evil: Revelations (2012)- Jessica Sherawat
Resistance 3 (2011)- Glenda, Norma, Nancy
Shin Megami Tensei IV (2013)- Burroughs
Soulcalibur V (2012)- Cynical
Star Wars: The Old Republic (2011)- Andra Cressen
The Amazing Spider-Man (2012)- Felicia Hardy
Ad blocker interference detected!
Wikia is a free-to-use site that makes money from advertising. We have a modified experience for viewers using ad blockers

Wikia is not accessible if you've made further modifications. Remove the custom ad blocker rule(s) and the page will load as expected.