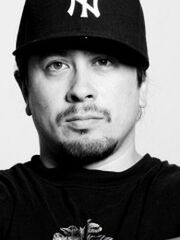 Andrew Kishino is a Japanese-Canadian English-speaking voice actor in video games, animation and voice-over narration.
Filmography
Edit
Animation
Edit
G.I. Joe: Renegades (2010-2011)- Storm Shadow, Stalker, Tripwire, Frostbite
Star Wars: The Clone Wars (2008)- Saw Gerrera
Superman vs. The Elite (2012)- Hat
The Grim Adventures of Billy & Mandy (2003-2008)- Additional Voices
The Spectacular Spider-Man (2008-2009)- Kenny "King" Kong, Ned Lee
Announcer/Narration
Edit
America's Got Talent
E! True Hollywood Story
ESPN Hollywood
Video Games
Edit
Bionic Commando (2009)- Grunt2
Call of Duty: World at War (2008)- Tucker
G.I. Joe: The Rise of Cobra (2009)- Night Creeper
Lost Planet 2 (2010)- NEVEC
Lost Planet: Colonies (2008)- Yuri Solotov
Lost Planet: Extreme Condition (2006-2008)- Yuri Solotov
Marvel Ultimate Alliance 2 (2009)- Molten Man
Mortal Kombat (2011)- Shang Tsung, Sektor
Ratchet & Clank Future: Tools of Destruction (2007)- Device Grummel
Resident Evil: Operation Raccoon City (2012)- Vector
Saints Row (2006-2007)- Donnie
Saints Row 2 (2008-2009)- Donnie, Kish, Ziggy
Spider-Man 3 (2007-2008)- Additional Voices
Transformers: Revenge of the Fallen (2009)- Breakaway
Transformers: The Game (2007)- Jazz
X-Men Origins: Wolverine (2009)- Additional Voices
Television
Edit
iCarly: iGo to Japan (2008)- Japanese Standee
Ad blocker interference detected!
Wikia is a free-to-use site that makes money from advertising. We have a modified experience for viewers using ad blockers

Wikia is not accessible if you've made further modifications. Remove the custom ad blocker rule(s) and the page will load as expected.