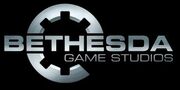 Bethesda Game Studios is an American in-house development team at Bethesda Softworks established in 2001. Previously synonymous with parent publisher Bethesda Softworks, the studio's name and logo were established with the release of The Elder Scrolls III: Morrowind in 2002. The studio is currently led by executive producer Todd Howard. Bethesda Game Studios, Bethesda Softworks and ZeniMax Media all work in the same building.
Bethesda Game Studios was established in 2001. All of the developers from Bethesda Softworks moved to Bethesda Game Studios in 2001. Then Bethesda Softworks and Bethesda Game Studios became separated between publisher and developer. In the past, not all BGS titles were published by the Softworks division. However, beginning with The Elder Scrolls IV: Oblivion for the PlayStation 3, Bethesda Softworks began publishing all Bethesda Game Studios games.
At a time in the mid-2000s BGS had two studios—one that made the RPG's, and another that was focusing on the IHRA drag racing titles.
External Links
Edit
Ad blocker interference detected!
Wikia is a free-to-use site that makes money from advertising. We have a modified experience for viewers using ad blockers

Wikia is not accessible if you've made further modifications. Remove the custom ad blocker rule(s) and the page will load as expected.