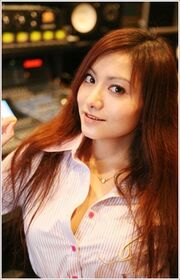 Chiaki Takahashi (たかはし 智秋 (formerly 高橋 千晶) Takahashi Chiaki) is a Japanese voice actress who voiced Litchi Faye-Ling from BlazBlue series. Her hometown is Yokohama, Japan. On October 10, 2000, she changed the kanji lettering of her name, though the pronunciation remains the same. She was a member of the J-pop group Aice5 as well. Currently under Avex Management Inc. and LMP Promotion, she was previously represented by Aoni Production and Arts Vision. In 2011, she made her solo musical debut with the single Kon'ya wa Chupa♡Riko under Avex.
Filmography
Edit
Bleach- Haineko
Full Metal Panic!- Ai Tanabe (eps 1, 2, 4, 8); announcer (ep 14); Shiori Kudou (eps 3, 5, 7, 9)
InuYasha- Princess (ep 22); Villager (Ep 18)
Panyo Panyo Di Gi Charat- Girl 3
Yatterman 2008- Omotchama
Video Games
Edit
BlazBlue: Calamity Trigger (2008-2009)- Litchi Faye-Ling
BlazBlue: Chrono Phantasma (2012-2014)- Litchi Faye-Ling
BlazBlue: Continuum Shift (2009-2010)- Litchi Faye-Ling
BlazBlue: Continuum Shift II (2010-2011)- Litchi Faye-Ling
BlazBlue: Continuum Shift Extend (2011-2012)- Litchi Faye-Ling
Hyperdimension Neptunia- Arfoire
Hyperdimension Neptunia Mk2- Magic the Hard
Hyperdimension Neptunia Victory- Arfoire
The Idolmaster- Azusa Miura
Ad blocker interference detected!
Wikia is a free-to-use site that makes money from advertising. We have a modified experience for viewers using ad blockers

Wikia is not accessible if you've made further modifications. Remove the custom ad blocker rule(s) and the page will load as expected.