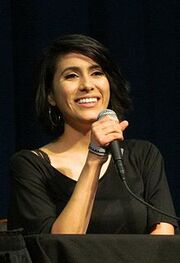 Cristina Valenzuela (Cristina Vee) is an American voice actress who works for anime, video game series, and her YouTube channel. In addition to voice acting, she is also known as the co-host for AnimeTV with Johnny Yong Bosch and the live portrayal of Haruhi Suzumiya in The Adventures of the ASOS Brigade after Patricia Ja Lee. In March 2012, Valenzuela started a Kickstarter crowd-funding campaign to produce an animated music video in conjunction with Cybergraphix Animation and Studio APPP. The main character of the video, "Cristina Veecaloid", was designed by Skullgirls creative director Alex Ahad. She was also a host of IGN's IPL4 and IPL5 League of Legends tournaments in Las Vegas.
Filmography
Edit
Animation
Edit
AIKa R-16: Virgin Mission- Aika Sumeragi
Fate/Zero- Sakura Matou
K-On!- Mio Akiyama
Lagrange: The Flower of Rin-ne- Grania, Sachi Nogami
Magical Girl Lyrical Nanoha- Nanoha Takamachi
Magical Girl Lyrical Nanoha A's- Nanoha Takamachi
Pokémon Black & White: Rival Destinies- Layla
Rozen Maiden- Female Friend (Ep. 1), Flower
Rozen Maiden: Träumend- Kanaria
Rozen Maiden Ouvertüre- Kanaria
Squid Girl- Nagisa Saito
Tekken: Blood Vengeance (2011)- Alisa Bosconovitch
Video Games
Edit
Adventure Time: Hey Ice King! Why'd You Steal Our Garbage?! (2012)- Song vocals (3DS version)
BlazBlue: Calamity Trigger (2008-2009)- Noel Vermillion, Nu-13, Saya
BlazBlue: Chrono Phantasma (2012-2014)- Noel Vermillion, Nu-13, Mu-12
BlazBlue: Continuum Shift (2009-2010)- Noel Vermillion, Lambda-11, Nu-13, Mu-12
BlazBlue: Continuum Shift II (2010-2011)- Lambda-11
BlazBlue: Continuum Shift Extend (2011-2012)- Noel Vermillion, Lambda-11, Nu-13, Mu-12
Skullgirls (2012)- Cerebella
Time and Eternity (2012-2013)- Towa
The Oregeon Trail (Official Facebook App) (2011)- Female voices
Where in the World is Carmen Sandiego? (Official Facebook App) (2011)- Carmen Sandiego
Ad blocker interference detected!
Wikia is a free-to-use site that makes money from advertising. We have a modified experience for viewers using ad blockers

Wikia is not accessible if you've made further modifications. Remove the custom ad blocker rule(s) and the page will load as expected.