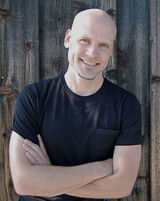 David Vincent is an American voice actor, whose work includes shows like: Code Geass, Fate/Stay Night, and Tales of Phantasia. More recently, he provided his voice in the role of Grimmjow Jeagerjaquez in the hit anime series Bleach, Marshall Law in Tekken series, and Jin Kisaragi with Hakumen in the Arc System Works popular fighting game series BlazBlue. David was nominated Best Voice Actor in an Anime for Gun Sword.
Filmography
Edit
Animation
Edit
Blue Dragon- Gen, Logi, Odin
Durarara!!- Seiji Yagiri
Fate/stay night- Assassin
Fate/zero- Archer
Gun Sword- Van
Naruto- Fukusuke Hikyakuya
Persona 4: The Animation (2011-2012)- Daisuke Nagase, Mr. Inoue
Resident Evil: Damnation (2012)- Secretary (voice), Alexander "Sasha" "Buddy" Kozachenko (mocap)
Tekken: Blood Vengeance (2011)- Shin Kamiya
Video Games
Edit
Ad blocker interference detected!
Wikia is a free-to-use site that makes money from advertising. We have a modified experience for viewers using ad blockers

Wikia is not accessible if you've made further modifications. Remove the custom ad blocker rule(s) and the page will load as expected.