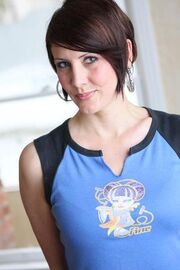 Erin Fitzgerald is a Canadian voice actress from Victoria, British Columbia, Canada. She now currently lived in Los Angeles, California since 2000.
Filmography
Edit
Animation
Edit
A.T.O.M. (2005-2006)- Dr. Rachelle Logan
Batgirl: Year One (2003)- Black Canary, Vickie Vale
Dead Space: Aftermath (2011)- Alexis Stross
Dragon Tales- Windy, Pooky, Hoppy (unknown episode)
Ed, Edd, n' Eddy (1998-2009)- Nazz (2000, 2002-2009), May Kanker (1998-2009)
Fable III (web series)- Jammi, Woman
Monster High- Abbey Bominable, Spectra Vondergeist, C.A. Cupid, Scarah Screams, Rochelle Goyle, Claire
Polly Pocket- Shani, Lea
Rainbow Fish- Salmontha, Girly Girl
Sabrina, the Animated Series- Over 60 characters including: Malissa, Ramona, Bolt, Perki Babble, Grima, Jane, James, Amanda, Witch, Lori, Ashley
Winx Club 3D: Magical Adventure (2010)- Darcy, Griselda, Faery
Bleach- Franceska Mila Rose, Mizuho Asano, Shota Toyokawa, Katen Kyokotsu Tachi, Katen Kyokotsu Wazikashi, Sogyo no Kotowari A&B
Kekkaishi- Atora Hanashima
Naruto Shippuden- Guren
Persona 4: The Animation (2011-2012)- Chie Satonaka
Ranma ½- Kodachi Kuno (Season 5)
Video Games
Edit
Bleach: The 3rd Phantom (2008-2010)- Matsuri Kudo
BlazBlue: Chronophantasma (2012-2014)- Bullet
Cartoon Network Universe: FusionFall (2009)- May Kanker
Catherine (2011)- Trisha, Erica
Call of Duty: Black Ops 2 (2012)- Additional Voices
Cross Edge (2008-2009)- Morrigan Aensland
Dead or Alive 5: Ultimate (2013)- Rachel
Disgaea 3: Absence of Justice (2008-2012)- Plenair, Stella, Pram, Priere, Cheeleader
Dragonball Evolution (2009)- Chi Chi
Final Fantasy XIII (2009-2010)- Additional Voices
Final Fantasy XIII-2 (2011-2012)- Researcher C, Nora B, Student
Fire Emblem: Awakening (2012-2013)- Emmeryn
Hyperdimension Neptunia (2010-2011)- Noire (Black Heart)
Hyperdimension Neptunia Mk2 (2011-2012)- Noire (Black Heart)
Hyperdimension Neptunia Victory (2012-2013)- Noire (Black Heart)
Katamari Forever (2009)- Michiru Hoshino
Monkey Quest (2011)- Zeeta, Mantila, Rhea, Ploch, Dimsum, Kioko, Mogri, Trink, Akami, Salve, Kiki, Jolly, Tulup, Hopper, Keli, Jitter, Irini, Tonic & Knit
Mugen Souls (2012)- Alys, Moonworld Goth Chick
Persona 4 Arena (2012-2013)- Chie Satonaka
Persona 4 Golden (2012-2013)- Chie Satonaka
Prinny: Can I Really Be the Hero? (2008-2009)- Wuxiang Fen, Lady Parsley, Bouquet Garni
Saints Row (2006-2007)- Additional Voices
Saints Row 2 (2008-2009)- Additional Voices
Saints Row the Third (2011)- Additional Voices
Shin Megami Tensei: Devil Summoner: Soul Hackers (1997-2013)- Naomi, Tomoko, Receptionist Housewife, Bitch Scientist
Shin Megami Tensei: Devil Survivor Overclocked (2009-2013)- Midori Komaki
Skullgirls (2012)- Parasoul
Spawn: Armageddon- Sasha, Wanda, Angels
Spider-Man 3 (2007)- Arsenic Candy Gang
Tekken 6 (2008-2009)- Jane
Ad blocker interference detected!
Wikia is a free-to-use site that makes money from advertising. We have a modified experience for viewers using ad blockers

Wikia is not accessible if you've made further modifications. Remove the custom ad blocker rule(s) and the page will load as expected.