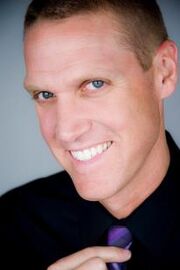 Ezra Weisz is an American voice actor who voiced one of Rachel's pets named Nago. He is also the ADR Director for A Little Snow Fairy Sugar, Bobobo-bo Bo-bobo, Bottle Fairy, Legend of the Millennium Dragon, Paprika, The Sky Crawlers, and Ultra Maniac.
Filmography
Edit
A Little Snow Fairy Sugar- Basil, Turmeric
Bleach- Yylfordt Granz
Ghost in the Shell: Stand Alone Complex- Guru Guru
Naruto- Kikujo
Naruto Shippuden- Suname, Nurari
Paprika (2006)- Him (Konakawa's friend)
Rave Master- Schneder
Rurouni Kenshin- Passenger/Seiku Arai/Traveler
Vampire Knight series- Kaname Kuran
Winx Club 3D: Magical Adventure (2010)- King Oritel
Live-Action
Edit
Masked Rider- Reptosect, Brain Mite (voices)
Power Rangers in Space (1998)- Fearog, Body Switcher, Destructoid, Lizwizard (voices)
Power Rangers: Lightspeed Rescue (2000)- Falkar, Troika (voices)
Power Rangers: Lost Galaxy (1999)- Wisewizard (voice)
Power Rangers: Time Force (2001)- Tentaclaw (voice)
Power Rangers: Turbo (1997)- Mouthpiece, Numbor, Mad Mike (voices)
Power Rangers: Wild Force (2002)- Mandilok (male voice)
Power Rangers: Zeo (1996)- Leaky Faucet, Admiral Abominator (voices)
Video Games
Edit
Ad blocker interference detected!
Wikia is a free-to-use site that makes money from advertising. We have a modified experience for viewers using ad blockers

Wikia is not accessible if you've made further modifications. Remove the custom ad blocker rule(s) and the page will load as expected.