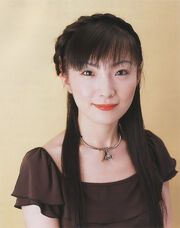 Fumiko Orikasa (折笠 富美子 Orikasa Fumiko) is a Japanese voice actress and singer who works for Atomic Monkey. Her record label is Geneon Entertainment. Shopping is one of her hobbies. She is a skilled dancer, and is referred to as "Oririn" by fellow voice actors and fans. She also performed a fair number of anime insert and character image songs.
Filmography
Edit
Bleach- Rukia Kuchiki, Hisana Kuchiki, Ashisogi Jizo (spirit)
Devil May Cry: The Animated Series- Lady
Digimon Tamers- Ruki Makino
Fullmetal Alchemist- Lydia
Fullmetal Alchemist: Brotherhood- Riza Hawkeye
HeartCatch PreCure!- Azusa Takagishi
InuYasha- Enju, Sara-hime
Mobile Suit Gundam SEED Destiny- Meyrin Hawke
Naruto- Miroku
One Piece- Miss Valentine
Pretty Cure Season 2- Katsuko Nagasawa
Suite PreCure- Kanade Minamino / Cure Rhythm
Vampire Knight- Shizuka Hiou
Bleach: Memories in the Rain- Rukia Kuchiki
Bleach: The Sealed Sword Frenzy- Rukia Kuchiki
Street Fighter IV: The Ties That Bind- Chun-Li
Bleach: Fade to Black- Rukia Kuchiki, Hisana Kuchiki
Bleach: Hell Verse- Rukia Kuchiki
Bleach: Memories of Nobody- Rukia Kuchiki
Bleach: The DiamondDust Rebellion- Rukia Kuchiki
Digimon Tamers: Battle of Adventurers- Rika Makino
Digimon Tamers: Runaway Locomon- Rika Makino
InuYasha the Movie: Fire on the Mystic Island- Asagi
Naruto: Shippūden the Movie- Miroku
Pokémon Heroes- Bianca
Pretty Cure All Stars DX3: Deliver the Future! The Rainbow~Colored Flower That Connects the World!- Kanade Minamino / Cure Rhythm
Pretty Cure All Stars New Stage: Friend of the Future- Kanade Minamino / Cure Rhythm
Professor Layton and the Eternal Diva- Melina Whistler
Video Games
Edit
Bleach series- Rukia Kuchiki
Dirge of Cerberus: Final Fantasy VII- Shelke the Transparent
Fullmetal Alchemist: Prince of the Dawn- Riza Hawkeye
Marvel vs. Capcom 3: Fate of Two Worlds (2011)- Chun-Li
Project X Zone (2012-2013)- Chun-Li, Lady
SD Gundam G Generation- Claire Heathrow
Soul Calibur V (2012)- Creation Voice
Street Fighter IV (2008-2009)- Chun-Li
Street Fighter X Tekken (2012)- Chun-Li
Super Street Fighter IV (2010-2011)- Chun-Li
Tatsunoko vs. Capcom (2008-2010)- Chun-Li
Ultimate Marvel vs. Capcom 3 (2011)- Chun-Li
Ultra Street Fighter IV (2014)- Chun-Li
CSI: Crime Scene Investigation- Nora Easton
High School Musical (2006)- Gabriella Montez
Ad blocker interference detected!
Wikia is a free-to-use site that makes money from advertising. We have a modified experience for viewers using ad blockers

Wikia is not accessible if you've made further modifications. Remove the custom ad blocker rule(s) and the page will load as expected.