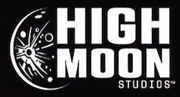 High Moon Studios (formerly Sammy Studios) is an American video game developer, that used to be a part of Sierra Entertainment. After a period as independent studio, the developer was acquired by Vivendi Games in January 2006 and retained the current name. It is now owned by Activision Blizzard, a parent company of Activision.
Originally owned and operated by the Japanese publisher Sammy, the former Sammy Studios, Inc. established itself as an independent developer following Sammy's pull-out of American development in efforts to focus on its Japanese productions. In March 2005, the company announced that it had completed a management buyout from Sammy Corporation, and had changed its name to High Moon Studios, Inc., with CEO John Rowe heading the developer's continuing North American efforts on previous games from Sammy Studios and other titles (including the macabre shooter Darkwatch.) In January 2005, it was announced that Vivendi Universal Games had acquired High Moon Studios. John Rowe, president and CEO of High Moon, continues to manage the studio from Carlsbad, CA. Following the completion of Deadpool, Activision fired 40 full-time employees from High Moon Studios that worked on the project. Activision made this statement: "Activision Publishing consistently works to align its costs with its revenues – this is an ongoing process, with the completion of development on Deadpool, we are taking a reduction in staff at High Moon Studios to better align our development talent against our slate."
Darkwatch (2005)- (PS2, Xbox)
Robert Ludlum's The Bourne Conspiracy (2008)- (PS3, Xbox 360)
Transformers: War for Cybertron (2010)- (PC, PS3, Xbox 360)
Transformers: Dark of the Moon (2011)- (PS3, Xbox 360)
Transformers: Fall of Cybertron (2012)- (PC, PS3, Xbox 360)
Deadpool (2013)- (PC, PS3, Xbox 360)
External Links
Edit
Ad blocker interference detected!
Wikia is a free-to-use site that makes money from advertising. We have a modified experience for viewers using ad blockers

Wikia is not accessible if you've made further modifications. Remove the custom ad blocker rule(s) and the page will load as expected.