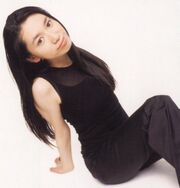 Houko Kumashima is a Japanese voice actress and singer. She is capable of playing a variety of roles, ranging from young boys to feminine women. Kuwashima is currently affiliated with Aoni Production. Her given name, Houko (法子), is sometimes misread as Noriko (which is another valid reading of 法子).
Filmography
Edit
Azumanga Daioh- Kagura
Beyblade- Kyōju (renamed "Kenny" in the English version)
Bleach- Soifon (episode 206+), Cirucci Sanderwicci, Tsuki
Bomberman B-Daman Bakugaiden- Shirobon
Claymore- Clare
Digimon Xros Wars- Nene Amano, Cutemon, Lilithmon
Digimon Xros Wars: The Young Hunters Who Leap Through the Time- Ren Tobari
Detective Conan- Reiko Akiba (Detective Conan: Movie 12 - Full Score of Fear), Kazumi Tsukamoto
Fate/stay night- Mordred
Final Fantasy: Unlimited- Miles
Fullmetal Alchemist- Rosé Thomas
Gundam SEED- Flay Allster, Natarle Badgiruel, Via Hibiki
Gundam SEED DESTINY- Stella Loussier, Rey Za Burrel (young)
HeartCatch PreCure!- Itsuki Myōdōin/Cure Sunshine
InuYasha- Sango
InuYasha: Kanketsu-hen- Sango
Kekkaishi- Yomi Kasuga
Konjiki no Gash Bell! (Zatch Bell)- Kolulu
MapleStory- Al
One Piece- Going Merry, Victoria Cindry
Pokémon- Bucky (episode 191)
Dragon Ball: Episode of Bardock- Beri
Video Games
Edit
Castlevania: Order of Ecclesia- Shanoa
Dead or Alive series- Kasumi (since Dead or Alive 3, including Dead or Alive Ultimate and Ninja Gaiden 3: Razor's Edge)
Digital Devil Saga: Avatar Tuner- Sera/Seraph
Inuyasha: A Feudal Fairy Tale- Sango
Metal Gear series- Mei Ling and Para-Medic
Soul series- Seong Mi-na (Soulcalibur through Soulcalibur III)
Tales of Symphonia, Tales of the World: Narikiri Dungeon 3, Tales of Fandom Vol.2, Tales of Symphonia: Dawn of the New World, Tales of the World: Radiant Mythology 2, Tales of VS.- Presea Combatir
Tekken Tag Tournament 2 (2011-2012)- Kunimitsu
Arthur- Sue Ellen Armstrong (Patricia Rodriguez)
Thomas and the Magic Railroad- Lily (Mara Wilson)
W.I.T.C.H- Wilhelmina "Will" Vandom
Ad blocker interference detected!
Wikia is a free-to-use site that makes money from advertising. We have a modified experience for viewers using ad blockers

Wikia is not accessible if you've made further modifications. Remove the custom ad blocker rule(s) and the page will load as expected.