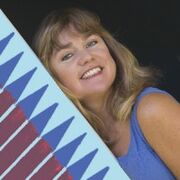 Jessica Straus is an American voice actress who works for anime and video game series. She provided voices for such titles as .hack//GU//Rebirth and Command & Conquer: Tiberian Sun. Other roles that Straus has done include Gidget on Eureka Seven and the Amazon character in the game Diablo II.
Filmography
Edit
Astro Boy (2003)- Robita
Duel Masters- Betty
Eureka Seven- Gidget
MÄR- Ginta's Mother
Mega Man Star Force- Sonia
Persona 4: The Animation (2011-2012)- Hanako Ohtani, Saki Konishi
Rave Master- Lilith
Video Games
Edit
.hack//G.U. vol.1//Rebirth (2006)- Pi
.hack//G.U. vol.2//Reminisce (2006-2007)- Pi
.hack//G.U. vol.3//Redemption (2007)- Pi
Band Hero (2009)- Misc. Characters & Human sounds
Diablo II (2000)- Amazon
Fire Emblem: Awakening (2012-2013)- Panne
Guilty Gear 2: Overture (2007-2009)- Queen, Candy
InFamous (2009)- Sasha
Rumble Roses XX (2006)- Dixie, Sgt. Clemets
Shin Megami Tensei: Persona 4 (2008)- Hanako Ohtani, Saki Konishi
Soulcalibur V (2012)- Reliable Leader
Street Fighter X Tekken (2012)- Juri
Super Street Fighter IV (2010-2011)- Juri
Transformers: War of Cybertron (2010)- Slipstream
Trauma Center: New Blood (2007-2009)- Doctor
Ultimate Spider-Man (2005)- Fou Tou Bang Boss
Ultra Street Fighter IV (2014)- Juri
Ad blocker interference detected!
Wikia is a free-to-use site that makes money from advertising. We have a modified experience for viewers using ad blockers

Wikia is not accessible if you've made further modifications. Remove the custom ad blocker rule(s) and the page will load as expected.