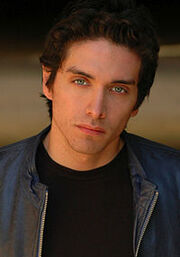 Josh Keaton is an American actor, voice actor, singer, and music producer.
Filmography
Edit
Firebreather (2010)- Troy Adams
Hercules (1997)- Young Hercules
Justice League: Crisis on Two Earths (2010)- Wally West/Flash, Aquaman
Kangaroo Jack: G'Day U.S.A.! (2004)- Charlie Carbone
Snoopy's Reunion (1991)- Linus Van Pelt
The Wild (2006)- Additional Voices
Television Series
Edit
Back to the Future: The Animated Series (1991-1992)- Jules Brown
Ben 10 (2007)- Tim Dean
Bratz (2004-2006)- Eitan
Green Lantern: The Animated Series (2011)- Hal Jordan, Manhunters
Hero Factory (2013)- William Furno
Sym-Bionic Titan (2011)- Ian
The Avengers: Earth's Mightiest Heroes (2012)- Peter Parker/Spider-Man
The Spectacular Spider-Man (2007-2009)- Peter Parker/Spider-Man
The Superhero Squad Show (2009-2011)- Moon-Boy
Transformers Prime (2010)- Jack Darby, Tailgate, Additional Voices
Winx Club (2011)- King Oritel, Sky, Valtor, Additional voices (Nickelodeon Version)
Young Justice (2011)- Black Spider
Video Games
Edit
God of War II (2007)- Young Spartan
Jak & Daxter: The Lost Frontier (2009)- Jak
Kingdom Hearts: Birth by Sleep (2010)- Young Hercules
Lost Planet: Extreme Condition (2007)- Wayne
Marvel Super Hero Squad (2009)- Spider-Man
Marvel Ultimate Alliance (2006)- Human Torch, Hermod
Marvel vs. Capcom 3: Fate of Two Worlds (2011)- Peter Parker/Spider-Man
Metal Gear Solid 3: Snake Eater (2004)- Major Ocelot
Metal Gear Solid 4: Guns of the Patriots (2008)- Young Ocelot
Metal Gear Solid: Portable Ops (2006)- Major Ocelot
Naruto: Clash of Ninja 2 (2006)- Mizuki
Need for Speed: Carbon (2006)- Sal Scout Facbitory
Ninja Gaiden II (2008)- Ryu Hayabusa
Ninja Gaiden Sigma 2 (2009)- Ryu Hayabusa
No More Heroes (2008)- Destroyman
No More Heroes: Desperate Struggle (2010)- New Destroyman
PlayStation All-Stars Battle Royale (2012)- Jak
Skylanders: Giants (2012)- Spyro the Dragon, Dark Spyro, Legendary Spyro
Skylanders: Spyro's Adventure (2011)- Spyro the Dragon, Dark Spyro, Legendary Spyro
Spider-Man (2002)- Harry Osborn
Spider-Man (2004)- Harry Osborn
Spider-Man 3 (2007)- Apocalypse Thug
Spider-Man: Edge of Time (2011)- Peter Parker/The Amazing Spider-Man
Spider-Man: Friend or Foe (2008)- Harry Osborn/New Goblin
Spider-Man: Shattered Dimensions (2010)- Ultimate Symboite Spider-Man, Spider-Man (DS Version)
Star Wars: The Old Republic (2011-2012)- Additional Voices
Ultimate Marvel vs. Capcom 3 (2011)- Peter Parker/Spider-Man
X-Men Legends II: Rise of Apocalypse (2005)- Cyclops
Live Roles
Edit
Kidsongs: A Day at Camp/Ride the Roller Coaster (1989)- Himself
The Even Stevens Movie (2003)- Mootai
Up-In-Down-Town (2007)- Billy
Television Series
Edit
Bones (2006)- Yasutani the Terrible (1 Episode)
Boy Meets World (1994)- Roy (2 Episodes)
ER (2002)- Greg (1 Episode)
Sister, Sister (1995)- Franklin (1 Episode)
Will & Grace (2004)- Sal (2 Episodes)
Ad blocker interference detected!
Wikia is a free-to-use site that makes money from advertising. We have a modified experience for viewers using ad blockers

Wikia is not accessible if you've made further modifications. Remove the custom ad blocker rule(s) and the page will load as expected.