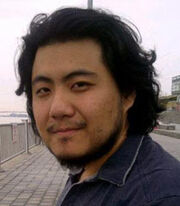 Kaiji Tang is an American voice actor and screen actor working primarily out of Los Angeles.
Filmography
Edit
Magical Girl Lyrical Nanoha- Shiro Takamachi
Magical Girl Lyrical Nanoha A's- Shiro Takamachi/Graf Eisen
Squid Girl- Principal (credited as Juicey Flannigan)
The Melancholy of Haruhi Suzumiya- Computer Club Member
Battle Royale (2000)- Shogo Kawada
Tekken: Blood Vengeance (2011)- Lee Chaolan
The Liquidator- Various Voices
Tokyo Zombie (2005)- Akiyama/Prince
Video Games
Edit
Bioshock Infinite (2013)- Various Roles
BlazBlue series- Scientist, Various Roles
Dead or Alive 5 (2012)- Jann Lee
Dead or Alive 5 Plus (2013)- Jann Lee
Dead or Alive 5 Ultimate (2013)- Jann Lee
Kamen Rider: Dragon Knight (2009)- Strike, Thrust
Maplestory (2003-2007)- Luminous
Reality Fighters (2012)- Kung Fu Monk, Samurai
Resident Evil 6 (2012-2013)- Screamer Zombie, Various Roles
Skullgirls (2012)- Black Egrets Soldier, Republican Double
Soulcalibur V (2012)- Young Knight
Tales of Graces (2009-2012)- Raymond Oswell
Tales of Xillia (2011-2013)- Wingul
Tekken Tag Tournament 2 (2012)- Lee Chaolan (as Violet) (Character Intros, Fight Lab Ending)
Ad blocker interference detected!
Wikia is a free-to-use site that makes money from advertising. We have a modified experience for viewers using ad blockers

Wikia is not accessible if you've made further modifications. Remove the custom ad blocker rule(s) and the page will load as expected.