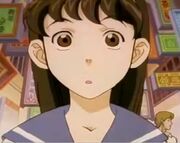 Kei Chitose (千歳 けい, Chitose Kei) is Sakura's best friend. While Kei is the typical average schoolgirl (into boys and clothes while utterly opposed to Sakura's hobby of street fighting), she (reluctantly) accompanies Sakura on her quest to become the greatest street fighter.
She appears in Sakura's intro and victory poses in Street Fighter Alpha series.
Ad blocker interference detected!
Wikia is a free-to-use site that makes money from advertising. We have a modified experience for viewers using ad blockers

Wikia is not accessible if you've made further modifications. Remove the custom ad blocker rule(s) and the page will load as expected.