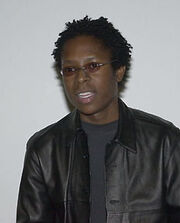 Kenny Blank, full birth name Kenneth Michael Benbow Blank, is an American actor and musician. Later, he changed his name to Kenn Michael. Blank is best known for his role as Michael Peterson in the television series The Parent 'Hood from 1995 to 1997 for which he also composed some music, as well as his appearance on Eddie Murphy's 1992 film, Boomerang.
Blank provided the voice of the character Darren Patterson on the Nickelodeon animated series As Told by Ginger, as well as earning a small role in All Grown Up!, as Sulky Boy's band member J.T.. He also appeared in Silent Story and Delivering Milo. Notable guest appearances on television shows include roles in City of Angels, Living Single, and Freaks and Geeks. In 1991 he starred as Linus Bragg in the movie "Carolina Skeletons" (or "The End of Silence"), featuring an African-American boy who was wrongfully executed at the age of 14, a story based on the true events around George Stinney Jr.. Blank also provided one of the selectable voices of the playable protagonist in Saints Row 2, Saints Row: The Third and Saints Row IV.
As a child, Blank reviewed the book Jumanji on Reading Rainbow in the episode about the Macy's Day Parade. His major breakthrough was his role as Tito in the 1991 Joe Pesci film The Super. For his performance as Tito, Blank was nominated for a Young Artist Award in 1992 in the category 'Best Young Actor Co-starring in a Motion Picture'.
Since 1998, Blank has cinematographed, edited and directed number of short films.
Ad blocker interference detected!
Wikia is a free-to-use site that makes money from advertising. We have a modified experience for viewers using ad blockers

Wikia is not accessible if you've made further modifications. Remove the custom ad blocker rule(s) and the page will load as expected.