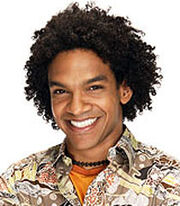 Khary Payton is an American actor and voice actor known for his voice characterizations in animated cartoons, having portrayed Cyborg in the Teen Titans animated series and Teen Titans Go! and Aqualad in Young Justice.
Filmography
Edit
Animation
Edit
Ben 10 (2005-2008)- Hex, Additional Voices
Ben 10: Alien Force (2008-2010)- Manny, Hex
Codename: Kids Next Door (2002-2008)- Maurice: Formerly Numbuh 9, Additional Voices
G.I. Joe: Renegades (2010-2011)- Ripcord
Justice League (2001-2003)- Ten
Legion of Super-Heroes (2006-2008)- Tyr, Hunter
Loonatics Unleashed (2005-2007)- General Deuce (Season 2)
Teen Titans (2003-2006)- Cyborg, Herald
Teen Titans Go! (2013)- Cyborg
Young Justice (2011-2013)- Aqualad, Brick, Black Manta
Live-Action
Edit
Criminal Minds (2005)- Officer (Season 5, Episode 10, Slave of Duty)
Hannah Montana (2006-2011)- Roger the Director (from episode More Than a Zombie to Me)
I'm in the Band (2009-2012)- Director Kaz Ridley (Season 1: Spiders, Snakes and Clowns)
Video Games
Edit
Batman: Arkham City (2011-2012)- Azrael, Inmates
Batman: Arkham Origins (2013)- Martin Joseph
Dead or Alive: Dimensions (2011-2012)- Zack
Dead or Alive Xtreme 2 (2006)- Zack
Dead or Alive Paradise (2010)- Zack
Killzone 3 (2011)- Additional ISA voices
Marvel: Ultimate Alliance (2006-2007)- Blade, Paibok
Marvel: Ultimate Alliance 2 (2009)- Luke Cage, Blade
Metal Gear Solid 4: Guns of the Patriots (2008)- Drebin 893
Metal Gear Solid: Peace Walker (2010-2012)- Soldiers, Extras
No More Heroes 2: Desperate Struggle (2010)- Nathan Copeland
PlayStation All-Stars Battle Royale (2013)- Emmett Graves
Resistance 2 (2008)- Warner
Saints Row (2006-2007)- Additional voices
Spider-Man: Friend or Foe (2007)- Blade
Starhawk (2012)- Emmett Graves
Star Wars: The Old Republic (2011-2012)- Fauler
Teen Titans (2006)- Cyborg
The Sims 3 (2009)- Sim
Ad blocker interference detected!
Wikia is a free-to-use site that makes money from advertising. We have a modified experience for viewers using ad blockers

Wikia is not accessible if you've made further modifications. Remove the custom ad blocker rule(s) and the page will load as expected.