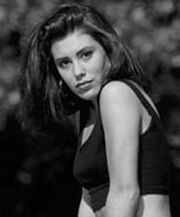 Lia Montelongo is an American actress, the youngest to work in a Mortal Kombat video game. She started working on Mortal Kombat 3 at the age of 19 as Sindel. In 1998 she played Sareena in Mortal Kombat Mythologies: Sub-Zero, and was romantically involved with actor Brian Glynn (who played Shao Kahn) from then until 2001.
In 1998 she was cast in the starring role of Lisa in the horror-satire feature film Shower of Blood, released in 2004.
Filmography
Edit
Ad blocker interference detected!
Wikia is a free-to-use site that makes money from advertising. We have a modified experience for viewers using ad blockers

Wikia is not accessible if you've made further modifications. Remove the custom ad blocker rule(s) and the page will load as expected.