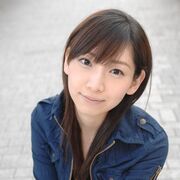 Marina Inoue (井上 麻里奈 Inoue Marina) is a voice actress and singer. She is signed onto Sony Music Entertainment Japan's Aniplex division. As for her voice acting career, she is employed by Sigma Seven.
Inoue made her debut as a voice actor and singer after she was chosen out of 2,000 people from the "Gonna be a star" auditions (hosted by Sony Music Entertainment Japan) for the title role in the OVA Le Portrait de Petit Cossette.
Filmography
Edit
Gurren Lagann (2007)- Yoko Littner
Marvel Anime: Iron Man (2010)- Aki
Shakugan no Shana Second (2007)- Pheles
Shakugan no Shana Final (2012)- Pheles / Saihyō Firesu
Smile PreCure! (2012)- Nao Midorikawa/Cure March
OVA and Movies
Edit
Broken Blade- Narvi
Hayate the Combat Butler- Wataru Tachibana
Goku Sayonara Zetsubou Sensei- Chiri Kitsu
Kite Liberator- Monaka Noguchi / Sawa
Le Portrait de Petit Cossette- Cossette d'Auvergne
Negima: Ala Alba- Kotaro Inugami
Tokyo Marble Chocolate- Miki
Video Games
Edit
Arcana Heart 2- Petra Johanna Lagerkvist
Arcana Heart 3 (2010-2011)- Petra Johanna Lagerkvist
Final Fantasy Type-0- Caetuna
No More Heroes: Heroes' Paradise- Sylvia Christel
Persona 4 Portable- Female Protagonist
Street Fighter X Tekken (2012)- Christie Monteiro
Ad blocker interference detected!
Wikia is a free-to-use site that makes money from advertising. We have a modified experience for viewers using ad blockers

Wikia is not accessible if you've made further modifications. Remove the custom ad blocker rule(s) and the page will load as expected.