See also: Marvel Universe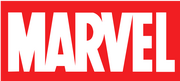 Marvel Worldwide, Inc., commonly referred to as Marvel Comics and formerly Marvel Publishing, Inc. and Marvel Comics Group, is an American company that publishes comic books and related media. In 2009, The Walt Disney Company acquired Marvel Entertainment, Marvel Worldwide's parent company, for $4.24 billion.
Marvel started in 1939 as Timely Publications, and by the early 1950s had generally become known as Atlas Comics. Marvel's modern incarnation dates from 1961, the year that the company launched Fantastic Four and other superhero titles created by Stan Lee, Jack Kirby, Steve Ditko, and many others.
Marvel counts among its characters such well-known properties as Spider-Man, the X-Men, the Fantastic Four, Iron Man, the Hulk, Thor, Captain America, and Daredevil; antagonists such as the Green Goblin, Magneto, Doctor Doom, Galactus, Thanos, Loki and the Red Skull. Most of Marvel's fictional characters operate in a single reality known as the Marvel Universe, also known as Earth-616, with locations that mirror real-life cities such as New York, Los Angeles and Chicago.
Marvel Comics and its major, longtime competitor DC Comics shared over 80% of the American comic-book market in 2008.
Icon Comics
Marvel Comics
Marvel Press, joint imprint with Disney Books Group
MAX
Ultimate Comics
Amalgam Comics (1996-1997; jointly with DC Comics)
CrossGen (1998-2004)
Curtis Magazines/Marvel Magazine Group
Epic Comics (creator owned) (1982-2004)
Malibu Comics (1994-1997)
Marvel 2099 (1992-1998)
Marvel Absurd
Marvel Age/Adventures
Marvel Books
Marvel Knights
Marvel Illustrated
Marvel Mangaverse
Marvel Music
Marvel Next
Marvel Noir
Marvel UK
MC2
New Universe
Paramount Comics (co-owned with Viacom's Paramount Pictures)
Razorline
Soleil
Star Comics
Tsunami
Former Marvel Comics line
Ad blocker interference detected!
Wikia is a free-to-use site that makes money from advertising. We have a modified experience for viewers using ad blockers

Wikia is not accessible if you've made further modifications. Remove the custom ad blocker rule(s) and the page will load as expected.