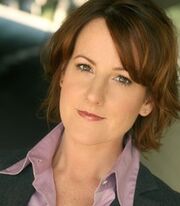 Megan T.D. Hollingshead, also known as Karen Thompson or Kelli Kassidi, is an American theatre and voice actress.
Filmography
Edit
Animation
Edit
Bleach- Rangiku Matsumoto, Nemu Kurotsuchi, Emilou Apacci, Momoe
Bobobo-bo Bo-bobo- Rem
Durarara!!- Ganguro Girl, Additional Voices
Fate/stay night- Sir Bedivere (ep 24)
Gurren Lagann (2007)- Adiane
IGPX: Immortal Grand Prix (2003-2006)- Judy Ballasteros
Lucky Star- Gottoza-sama
Naruto- Shizune, Uruchi Uchiha, Young Tsunade, Yoshino Nara
Naruto Shippuden- Shizune, Yoshino Nara, Young Tsunade, Tamaki
Pokémon- Nurse Joy, Cassidy, Duplica, Lily, Clair, Tamao, Caroline, James' Mother, Mary, Dr. Anna, Ghost of Maiden's Peak, Janet, Marie, Sonrisa and others (seasons 1-6)
Shaman King- Sharona of The Lily Five
Sonic X- Scarlet Garcia (Season 1 and 2)
Teenage Mutant Ninja Turtles (2003)- Sydney, Abigail Finn, Moriah
The Melancholy of Haruhi Suzumiya- Takako Nakanishi
Yu-Gi-Oh!- Mai Valentine, Mana
Video Games
Edit
Bleach series- Rangiku Matsumoto, Rin Tsubokura
Naruto series- Shizune
Pokémon Puzzle League (2000-2008)- Nurse Joy, Officer Jenny, Cassidy
Saints Row: The Third (2011)- Kiki DeWynter
Soulcalibur IV (2008)- Ashlotte, Custom Female Voice #3
Soulcalibur: Broken Destiny (2009)- Custom Female Voice #3
Ad blocker interference detected!
Wikia is a free-to-use site that makes money from advertising. We have a modified experience for viewers using ad blockers

Wikia is not accessible if you've made further modifications. Remove the custom ad blocker rule(s) and the page will load as expected.