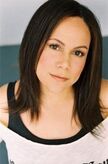 Mela Lee is an American singer, voice actress, and lead vocalist for Los Angeles Indie band, Magnolia Memoir.
Filmography
Edit
Durarara!!- Erika Karisawa
Fate/Stay Night- Rin Tohsaka
Gurren Lagann (2007)- Darry, Baby Anne
The Disappearance of Haruhi Suzumiya (2010)- Reiko Hayama
Vampire Knight series- Yuki Cross
Non-Anime
Edit
Alpha and Omega (2010)- Candy
Alpha and Omega 2- Candy
Winx Club 3D: Magical Adventure- Aisha/Layla
Video Games
Edit
BlazBlue: Calamity Trigger (2008-2009)- Rachel Alucard
BlazBlue: Chrono Phantasma (2012-2014)- Rachel Alucard
BlazBlue: Continuum Shift (2009-2010)- Rachel Alucard
BlazBlue: Continuum Shift Extend (2011-2012)- Rachel Alucard
Shin Megami Tensei: Persona 3 (2006-2012)- Fuuka Yamagishi
Trinity Universe (2009-2010)- Rizelea
X-Men (XBLA/PSN) (2010)- All Females
Ad blocker interference detected!
Wikia is a free-to-use site that makes money from advertising. We have a modified experience for viewers using ad blockers

Wikia is not accessible if you've made further modifications. Remove the custom ad blocker rule(s) and the page will load as expected.