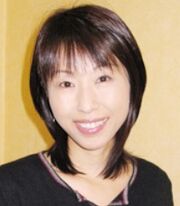 Michiko Neya (根谷 美智子 Neya Michiko) is a Japanese voice actress born in Echizen, Fukui (formerly Takefu). Neya is a freelancer, although she worked at Arts Vision.
Filmography
Edit
Cardcaptor Sakura- Tsujitani-sensei
Chrono Crusade- Satella Harvenheit
Fresh Pretty Cure- Naoko Yamabuki
Fullmetal Alchemist- First Lieutenant Riza Hawkeye
Gurren Lagann (2007)- Adiane the Elegant
Honey and Clover- Teshigawara Miwako
MÄR- Diana
Mega Man: NT Warrior- Tesla Magnets
Mobile Suit Gundam SEED Destiny- Hilda Harken, Abby Windsor
Mobile Suit Gundam Wing- various minor roles
Mobile Suit Gundam 00- Shirin Bakhtiar
Mobile Suit Gundam 00: Second Season- Shirin Bakhtiar
One Piece- Queen Otohime
Sailor Moon S- Dai-Heart
Sailor Moon Supers- Tomoko Takase
Shaman King- Tao Jun
Yu-Gi-Oh!- Shizuka Kawai
Yu-Gi-Oh! GX- Emi Ayukawa
Video Games
Edit
BS Fire Emblem: Akaneia Senki (1997)- Nina, Village Daughter of Chapter 2
Capcom Fighting Jam (2004-2005)- Hsien-Ko
Capcom vs. SNK: Millennium Fight 2000 (2000-2002)- Chun-Li
Capcom vs. SNK 2: Millionaire Fighting 2001 (2001-2003)- Chun-Li
Darkstalkers 3 (1997-2012)- Hsien-Ko
Night Warriors: Darkstalkers' Revenge (1995-1996)- Hsien-Ko
Soul Calibur (1998-2012)- Sophitia Alexandra
Soul Calibur II (2002-2003)- Sophitia Alexandra
Soul Calibur III (2005)- Sophitia Alexandra
Street Fighter Alpha 3 (1998-2012)- Rose
Super Gem Fighter Mini Mix (1997-2006)- Hsien-Ko
Ad blocker interference detected!
Wikia is a free-to-use site that makes money from advertising. We have a modified experience for viewers using ad blockers

Wikia is not accessible if you've made further modifications. Remove the custom ad blocker rule(s) and the page will load as expected.