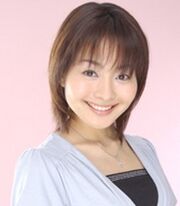 Nami Kurokawa (黒河 奈美 Kurokawa Nami) is a Japanese voice actress from Osaka, Japan. When voicing adult games, she is known as Mina Motoyama (本山 美奈 Motoyama Mina). She voiced Scheherazade and Kamikirimusi in Soulcalibur IV, along with custom character voices (also in Soulcalibur: Broken Destiny).
Filmography
Edit
Bokusatsu Tenshi Dokuro-chan (2005)- Tamiya-san (Ep. 5); Yuuko-sensei (Ep. 6-7)
D.C.S.S. ~Da Capo Second Season~ Tamaki Konomiya
D.N.Angel (2003)- Miyuki Sawamura
Demonbane- Raika
Gakuen Utopia Manabi Straight!- Takako Kakuzawa
Kashimashi: Girl Meets Girl- Woman B (Ep. 2-3)
Koihime Musou- as Kan'u Unchō/Aisha
Nishi no Yoki Majo - Astraea Testament- Literature Club Member 2 (Ep. 4); Woman A (Ep. 5)
Shrine of the Morning Mist- Daughter (Ep. 18)
Seikon no Qwaser- Mutsumi Sendou
Yoake Mae yori Ruriiro na- Sayaka Hozumi
Video Games
Edit
Soulcalibur IV (2008)- Scheherazade, Kamikirimusi, Female Custom Voice 1, Female Custom Voice 2
Soulcalibur: Broken Destiny (2009)- Female Custom Voice 1, Female Custom Voice 2
Wild Arms XF (2007-2008)- Alexia Lynn Elesius
Ad blocker interference detected!
Wikia is a free-to-use site that makes money from advertising. We have a modified experience for viewers using ad blockers

Wikia is not accessible if you've made further modifications. Remove the custom ad blocker rule(s) and the page will load as expected.