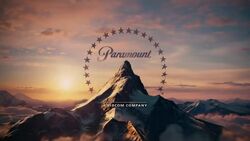 Paramount Pictures Corporation (frequently known as Paramount Pictures or simply Paramount) is a film and television production/distribution studio, consistently ranked as one of the largest (top-grossing) movie studios. It is a unit of U.S. media conglomerate Viacom.
Paramount Pictures is a member of the Motion Picture Association of America (MPAA).
Subsidiaries
Edit
Paramount Licensing, Inc.
Paramount Home Entertainment, Inc.
Divisions
Edit
Paramount Digital Entertainment
Paramount Pictures International
Paramount Studio Group - physical studio and post production

The Studios at Paramount - production facilities & lot
Paramount On Location - production support facilities throughout North America including New York, Vancouver, and Atlanta
Worldwide Technical Operations - archives, restoration and preservation programs, the mastering and distribution fulfillment services, on-lot post production facilities management

Worldwide Television Distribution
Paramount Famous Productions, direct-to-video
Paramount Parks & Resorts, licensing and design for parks and resorts
Paramount Motion Picture Group
Paramount Pictures
Paramount Classics

Viacom Media Networks branded labels:

MTV Films
Nickelodeon Movies

Insurge Pictures, micro-budget film distribution (March 2010 – present)
Paramount Animation (2011–present)
Paramount Vantage

Republic Pictures
Joint ventures
Edit
Epix (TV channel)
United International Pictures
Former divisions, subsidiaries, and joint ventures
Edit
Paramount Television Group (now CBS Television Studios)

Paramount Network Television

Big Ticket Entertainment (semi-in-name-only since 2006, only shows running are Judge Judy and Judge Joe Brown)
Spelling Television (in-name-only since 2006)
Viacom Productions (folded into PNT in 2004)
Wilshire Court Productions (shut down in 2003)

Paramount Domestic Television

Folded Viacom Enterprises in 1995, Rysher Entertainment in 1999, and Worldvision Enterprises in 2000
RTV News, Inc., producer of Real TV and Maximum Exposure

United Paramount Network (UPN) – formerly a joint venture with United Television, now part of the CBS/Time Warner joint venture The CW Television Network
Paramount Stations Group (now CBS Television Stations)
USA Networks (also including what is now called Syfy) – Paramount owned a stake starting in 1982, 50% owner (with Universal Studios) from 1987 until 1997, when Paramount/Viacom sold their stake to Universal (now part of NBCUniversal)

Paramount International Television (now CBS Studios International)
Paramount Parks (Purchased by Cedar Fair Entertainment Company in 2006)
DW Studios, LLC (also DW Pictures) - defunct, holding film library and rights, principal officers left to recreate DreamWorks as an independent company DW Funding **LLC - DreamWorks live-action library (pre-09/16/2005; DW Funding, LLC) sold to Soros Strategic Partners and Dune Entertainment II and purchased back in 2010
External Links
Edit
Ad blocker interference detected!
Wikia is a free-to-use site that makes money from advertising. We have a modified experience for viewers using ad blockers

Wikia is not accessible if you've made further modifications. Remove the custom ad blocker rule(s) and the page will load as expected.