Petra Johanna Lagerkvist


Profile
Name
Petra Johanna Lagerkvist
Height
5'0" (152 cm)
Weight
92 lbs (42 kg)
Homeworld
Sweden
Race
Human
Eye Color
Violet
Hair Color
Orange
Weapon(s)
Pistols
Debut
Arcana Heart 2
Voiced by
Marina Inoue
Petra Johanna Lagerkvist is a playable character from Arcana Heart series.
Biography
Edit
The Lagerkvist family has been a major part of Sweden's Spirit Sector and has many members serving in high ranking positions. Petra comes from a long line of holy maidens from the Lagerkvist family, and is the most powerful yet. Like her predecessors, she works for Sweden's Spirit Sector and is the youngest member to be selected to join their group. Her spirit power is excellent, and it is said that her powers could rival Mildred Avallone from the Spirit Sector in England.
The Legacy of Petra Johana Lagerkvist
Edit
Arcana Heart 2 (2008)

Arcana Heart 2: Suggoi! (2009)

Arcana Heart 3 (2010-2011)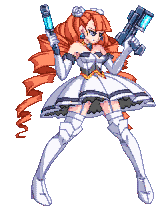 Ad blocker interference detected!
Wikia is a free-to-use site that makes money from advertising. We have a modified experience for viewers using ad blockers

Wikia is not accessible if you've made further modifications. Remove the custom ad blocker rule(s) and the page will load as expected.