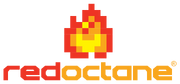 RedOctane was an American electronic entertainment company perhaps best known for producing the Guitar Hero series beginning in November 2005. RedOctane became a wholly owned subsidiary of Activision in 2006. In February 2010, Activision closed the RedOctane division.
RedOctane is known for its Guitar Hero games, Ignition dance pads, and other video game accessories, including arcade joysticks, drums, and guitars for existing music games. RedOctane teamed with developer Harmonix Music Systems to release Guitar Hero in November 2005 for the PlayStation 2. The game was successful and RedOctane had Jack McCauley design more sophisticated hardware for a sequel, which they released in 2006 for the PlayStation 2 and Xbox 360.
In May 2006, video game publisher Activision announced plans to acquire RedOctane, completing the deal on June 6, 2006. Activision reportedly paid RedOctane $99.9 million in cash and common stock in the acquisition. Activision acquired McCauleys's consulting company, R0R3 Devices, at the same time.
After the Activision buy-out and a split from Harmonix, who went on to develop competing game Rock Band, RedOctane utilized Activision owned Neversoft, the team responsible for the Tony Hawk skateboarding video game franchise, to take the helm on Guitar Hero III: Legends of Rock, which became available in November 2007.
Gaming news site Kotaku called Guitar Hero an "instant cult classic". In 26 months since first release, Guitar Hero generated over $1B in sales.
RedOctane released Guitar Hero World Tour in October 2008.
On February 11, 2010, Activision announced the closure of their RedOctane division.
Ad blocker interference detected!
Wikia is a free-to-use site that makes money from advertising. We have a modified experience for viewers using ad blockers

Wikia is not accessible if you've made further modifications. Remove the custom ad blocker rule(s) and the page will load as expected.