Rolento


Profile
Name
Rolento F. Schugerg
Height
5'10" (152 cm)
Weight
175 lbs (80 kg)
Homeworld
U.S.A.
Race
Human
Eye Color
Black
Hair Color
Brown
Weapon(s)
Stick and Special Forces training
Debut
Final Fight
English Voice Actor
Dameon Clarke
Japanese Voice Actor
Jin Yamanoi
Rolento F. Schugerg (ロレント・F・シュゲルグ), more commonly referred by his first name, is a character from Final Fight and Street Fighter series.
Biography
Edit
Final Fight (1989)
Final Fight 2 (1993-2009)
Street Fighter Alpha 2 (1996-2011)
Street Fighter Alpha 3 (1998-2011)
Final Fight Revenge (1999)
Ultra Street Fighter IV (2014)
Appearance
Edit
Rolento is an American-born German who wears a very militant outfit, with weapon belts (where he keeps his grenades) going over his shoulders, and a red beret on his head. He has a red scarf under his worn yellow outfit and fights with a green staff. This is a change from how he originally appeared in Final Fight, in which he wore tiger stripe camouflage fatigues and wielded a brown staff.
Theme Song
Edit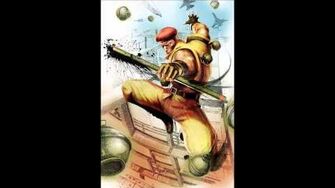 Rolento's theme is a USFIV remix of his boss theme from Final Fight.
According to Seth Killian, Rolento was created by Neo_G (Ishizawa Hidetoshi) and his name was stated to be "Laurence" (arguably "Laurent") when he was in the concept stages or first becoming a character, but due to L and R confusion in Japanese and additions of vowels at the end of words in transliteration, "Laurence" became "Rolento".
Rolento is said to have played a big part in Doctrine Dark's story in the Street Fighter EX series, as he is the reason that Doctrine Dark was driven mad. However despite this, Rolento is not playable, nor does he make any non-playable appearances in the entire series whatsoever.
A character with similar appearance who uses similar tactics, Jack Krauser, appears in Resident Evil 4, another Capcom property.
Illustrations
Edit
Ad blocker interference detected!
Wikia is a free-to-use site that makes money from advertising. We have a modified experience for viewers using ad blockers

Wikia is not accessible if you've made further modifications. Remove the custom ad blocker rule(s) and the page will load as expected.