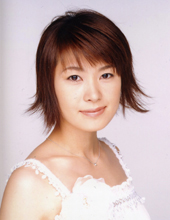 Sanae Kobayashi is a Japanese voice actress born from Hamamatsu, Shizuoka Japan. She is affiliated with Production Baobab.
Filmography
Edit
Television Animation
Edit
Astro Boy- Miss Midori
Durarara!!- Namie Yagiri
Huntik: Secrets & Seekers- Sophie Casterwill
Magical Girl Lyrical Nanoha A's- Reinforce
Naruto- Sasame
Persona -trinity soul-- Eiko Nikaido
Pokémon Mystery Dungeon: Team Go-Getters Out Of The Gate!- Squirtle
Pokémon- Greta
Shakugan no Shana Second- Mare
Sonic X- Chris Thorndyke
Spider Riders- Aqune, Venus
Yu-Gi-Oh! GX- Asuka Tenjouin
Video Games
Edit
Castlevania: HARMONY of Dissonance- Lydie Erlanger
Gravity Rush (2012)- Kat
Hot Shots Golf: World Invitional (2011-2013)- Kat
Mega Man ZX (2006-2007)- Vent, Aile
Mega Man ZX Advent (2007-2008)- Aile
Onimusha: Dawn of Dreams (2006)- Ohatsu
PlayStation All-Stars Battle Royale (2013)- Kat
Shakugan no Shana- Mare
Sly 2: Band of Thieves (2004-2011) (Japanese Dub)- Constance Neyla
Soulcalibur IV (2008)- Seong Mi-na
Soulcalibur: Broken Destiny (2009)- Seong Mi-na
Super Smash Bros. Brawl (2008)- Ice Climbers
Super Smash Bros. Melee (2001-2002)- Ice Climbers
A Cinderella Story (2004)- Samantha "Sam" Montgomery
A Nightmare on Elm Street (2010)- Kris Fowles
Barbie: Mermaidia (2006)- Nori
Final Destination 2 (2003)- Kimberly Corman
iCarly (2007-2012)- Sam Puckett
Journey to the Center of the Earth (2008)- Hanna
Star Wars: The Clone Wars- Riyo Chuchi
Terminator: The Sarah Connor Chronicles- Cameron
The Big Bang Theory- Missy Cooper
The Forbidden Kingdom (2008)- Golden Sparrow
The Simpsons- Princess Penelope (episode LABF20 "Once Upon a Time in Springfield")
Thunderbirds (2004)- Lady Penelope Creighton-Ward
Transformers: Dark of the Moon (2011)- Carly Spencer
Wizards of Waverly Place (2007-2012)- Alex Russo
You Don't Mess with the Zohan (2008)- Dalia Hakbarah
Ad blocker interference detected!
Wikia is a free-to-use site that makes money from advertising. We have a modified experience for viewers using ad blockers

Wikia is not accessible if you've made further modifications. Remove the custom ad blocker rule(s) and the page will load as expected.