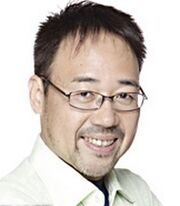 Tōru Ōkawa (大川 透 Ōkawa Tōru) is a Japanese voice actor from Kagoshima Prefecture who is affiliated with Mausu Promotion.
Filmography
Edit
Animation
Edit
Bleach- Kariya Jin
Case Closed- Ryūichi Arai, Locutor
Fullmetal Alchemist- Roy Mustang, Bidō
Ghost in the Shell: Stand Alone Complex- Saitō
Ghost in the Shell: S.A.C. 2nd GIG- Saitō
JoJo's Bizarre Adventure- Narrator
Kekkaishi- Tatsumi Mino
Magical Girl Lyrical Nanoha StrikerS- Genya Nakajima
Mega Man NT Warrior series- Bowl Man
Naruto SD: Rock Lee no Seishun Full-Power Ninden- Narrator
Pokémon Advanced Generation- Suzumura
Transformers: Armada- Optimus Prime
Zatch Bell!- Circus Director
Final Fantasy VII Advent Children (2005)- Rufus Shinra
Theater Animation
Edit
009 RE:CYBORG (2012)- Albert Heinrich
Fullmetal Alchemist the Movie: Conqueror of Shamballa (2005)- Roy Mustang
Mobile Suit Zeta Gundam A New Translation I: Heirs to the Stars (2005)- Apolly Bay
Video Games
Edit
JoJo's Bizarre Adventure- Joseph Joestar
Kingdom Hearts II (2006-2007)- Iago
Ratchet & Clank- Clank
Samurai Shodown VI (2005)- Kibagami Genjuro, Liu Yunfei, Yagyu Jubei
Sonic Adventure (1998-2010)- Pachacamac
Soulcalibur IV (2008)- Nathaniel "Rock" Adams
Soulcalibur: Broken Destiny (2009)- Nathaniel "Rock" Adams
Spyro the Dragon (1998)- Dragon Voice
Street Fighter III: 3rd Strike (1999)- Ryu
Street Fighter IV (2008-2009)- Gouken
Super Street Fighter IV (2010-2011)- Gouken
Ultra Street Fighter IV (2014)- Gouken
Dubbing Roles
Edit
Bambi II (2006)- The Great Prince of the Forest
Batman Begins (2005)- Ra's al Ghul
Home on the Range (2004)- Alameda Slim
Recess (1997-2001)- Lt. Griswald
Resident Evil (2002)- J.D.
Sesame Street- Cookie Monster, Oscar the Grouch, Count von Count, Snuffie
Star Trek: Deep Space Nine (1993-1999)- Elim Garak
Teletubbies (1997-2002)- Tinky Winky
The Matrix Revolutions (2003)- Link
Transformers Animated (2007-2009)- Ratchet
Ad blocker interference detected!
Wikia is a free-to-use site that makes money from advertising. We have a modified experience for viewers using ad blockers

Wikia is not accessible if you've made further modifications. Remove the custom ad blocker rule(s) and the page will load as expected.