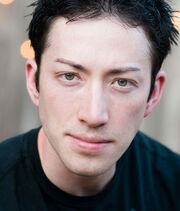 Todd Michael Haberkorn is an American actor, voice actor, and ADR director, He has provided voices for a number of English-language versions of Japanese anime series and video games.
Filmography
Edit
Case Closed: The Phantom of Baker Street– Jack The Ripper
Claymore– Raki
Dragon Ball Z Kai– Android 19
Naruto Shippuden the Movie: The Will of Fire– Hiruko
One Piece– Koza, Siam, Nero
Ouran High School Host Club– Hikaru Hitachiin
Save Me! Lollipop– Yakumo
Sgt. Frog– Keroro
Video Games
Edit
Borderlands 2 (2012)– Moorin, Obnoxious Singer, Some Guy, Tran Cancelmo, Wilhelm
Case Closed: The Mirapolis Investigation (2007-2009)– Keith Kozlof
Dragon Ball series– Android 19, Tarble
Fire Emblem: Awakening (2012-2013)– Morgan (Male, credited as Todd Stone)
Kinect Star Wars (2012)– Pod Racing Announcer
Shin Megami Tensei: Devil Summoner: Soul Hackers (2012-2013)– Junnosuke "Lunch" Kitagawa
Super Street Fighter IV (2010-2011)- Yun
Tekken Tag Tournament 2 (2011-2012)- Forest Law
Ultra Street Fighter IV (2014)- Yun
Barney Let's Make Music (2006 video)– Mr. Knickerbocke
Funimation Update Quickie (2008–2009 webcast)– Host
Star Trek Continues (2012 fan webisode series)– Mr. Spock
Ad blocker interference detected!
Wikia is a free-to-use site that makes money from advertising. We have a modified experience for viewers using ad blockers

Wikia is not accessible if you've made further modifications. Remove the custom ad blocker rule(s) and the page will load as expected.