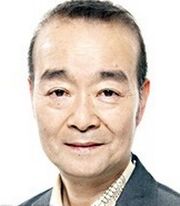 Tomomichi Nishimura (西村 知道 Nishimura Tomomichi) is a Japanese voice actor who works for Arts Vision. He is most known for the roles of the narrator of YuYu Hakusho, Mitsuyoshi Anzai (Slam Dunk), Shibaraku Tsurugibe (Mashin Hero Wataru), and Jamitov Hymem (Mobile Suit Zeta Gundam). In video games, he is best known as the voice of M. Bison/Vega and Akuma/Gouki (Street Fighter).
The Role of Tomomichi Nishimura
Edit
Animation
Edit
Chrono Crusade- Edward 'Elder' Hamilton
Digimon Xros Wars- Archelomon
Fresh Pretty Cure- Moebius
Kiki's Delivery Service (1989)- Clock tower guard
Mobile Suit Zeta Gundam- Jamitov Hymem
Naruto- Hachidai
Naruto Shippuuden- Ōnoki
One Piece- Captain T-Bone, Don Accino, Panz Fry
Pokémon: Giratina and the Sky Warrior- Regigigas
Pretty Cure- Belzei Gertrude
Sailor Moon- Rei's Grandfather
Slam Dunk- Mitsuyoshi Anzai
Street Fighter Alpha- Akuma
Transformers- Silverbolt, Superion
Transformers: Headmasters- Cyclonus
Yu Yu Hakusho- Jorge/Blue Ogre, Narrator
Video Games
Edit
Capcom Fighting Evolution (2004-2005)- Shin Akuma
Capcom vs. SNK: Millennium Fight 2000 (2000-2002)- Akuma
Capcom vs. SNK 2: Mark of the Millennium 2001 (2001-2003)- Akuma, Shin Akuma
Halo 2 (2004-2007)- High Prophet of Truth, Gravemind
Halo 3 (2007)- High Prophet of Truth, Gravemind
Hot Shots Golf Fore! (2003-2005)- Suzuki, Shawn
Hot Shots Golf: Out of Bounds (2007-2008)- Suzuki
Naruto Shippuden: Ultimate Ninja Storm 3 (2013)- Ōnoki
Naruto Shippuden: Ultimate Ninja Storm Generations (2012)- Ōnoki
Rival Schools series- Raizō Imawano
SD Gundam G Generation Spirits- Jamitov Hymem
SNK vs. Capcom: SVC Chaos (2003-2004)- Akuma, Shin Akuma
Street Fighter III series- Akuma
Phineas and Ferb- Major Monogram
The Simpsons Movie (2007)- Russ Cargill
Tokusatsu
Edit
Engine Sentai Go-Onger- Jum-bowhale
Kamen Rider Wizard- Beastchimaera
Ad blocker interference detected!
Wikia is a free-to-use site that makes money from advertising. We have a modified experience for viewers using ad blockers

Wikia is not accessible if you've made further modifications. Remove the custom ad blocker rule(s) and the page will load as expected.