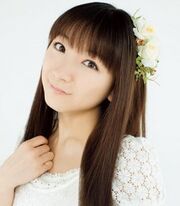 Yui Horie is a Japanese singer and voice actress. She is sometimes affectionately nicknamed "Hocchan" (ほっちゃん Hocchan) by her Japanese fans.
She hosts a radio show called "Horie Yui no Tenshi no Tamago" (堀江由衣の天使のたまご "Yui Horie's Angel Eggs") and is the founding member of the singing group, Aice5. She is also a member of the band Kurobara Hozonkai, with the name YUIEL. Her hobbies include shoulder massage, reading and cooking.
Filmography
Edit
Anime & Video Games
Edit
Ah! My Goddess: The Movie (2000)- Chrono (Kurono)
Dead or Alive 3 (2011)- Hitomi
Dead or Alive 4 (2005)- Hitomi, Mei Lin
Dead or Alive 5 (2012)- Hitomi
Dead or Alive 5 Plus (2013)- Hitomi
Dead or Alive 5 Ultimate (2013)- Hitomi
Dead or Alive: Dimensions (2011)- Hitomi
Dead or Alive Paradise (2010)- Hitomi
Dead or Alive Ultimate (2004)- Hitomi
Dead or Alive Xtreme 2 (2006)- Hitomi
Dead or Alive Xtreme Beach Volleyball (2003)- Hitomi
Fairy Tail: Hōō no Miko (2012)- Charle
Fruits Basket (2001)- Tohru Honda
Hyperdimension Neptunia Mk2 (2011)- Nepgear
IGPX: Immortal Grand Prix (2005)- Fantine Valgeon
Love Hina Again (2001)- Naru Narusegawa
Negima!? (2006)- Makie Sasaki
Negima! Magister Negi Magi: Anime Final (2011)- Makie Sasaki
Persona 4: The Animation (2011)- Chie Satonaka, Loveline
Pokémon (1997)- Brittany (Chihiro)
Rumble Roses XX (2006)- Makoto Aihara / The Black Belt Demon
Shaman King (2001)- Iron Maiden Jeanne, Lilly
Shin Megami Tensei: Persona 4 (2008)- Chie Satonaka
Skylanders: Giants (2013)- Persephone
Skylanders: Spyro's Adventure (2012)- Persephone
Vampire Knight (2008)- Yuki Cross
Vampire Knight Guilty (2008)- Yuki Cross
Ad blocker interference detected!
Wikia is a free-to-use site that makes money from advertising. We have a modified experience for viewers using ad blockers

Wikia is not accessible if you've made further modifications. Remove the custom ad blocker rule(s) and the page will load as expected.